How much does it cost?
What are the expenses of a real estate agent?
After you pass your course, book an appointment at one of our offices us to meet with our Managing Broker and Training Coordinator to apply for licensing and start your training. Please note that your license application must include an original criminal records check from your local RCMP detachment. The City of Maple Ridge currently charges $55. The City of Coquitlam currently charges $62. (Subject to change)
As of January 2015, in order to qualify for licensing, prospective licensees must: 1. successfully complete the Real Estate Trading Services Course (Licensing Course) and Exam delivered by the Sauder School of Business at UBC, and 2. Register for and complete the first two components of the Applied Practice Course. Altogether the Applied Practice Course has four components which are completed over a six-month timeframe. The first two components must be completed before licensing. Once you have successfully completed the first two components, you may apply for a temporary license (valid for six months) and begin working at a brokerage. Over the next several weeks you will complete several practical field assignments while working at the brokerage.  Upon successful completion of the Applied Practice Course within the allotted six months, you will have the temporary restriction removed from your license and will be a fully licensed real estate professional.
Well, that depends. Real Estate Agents are essentially self-employed and 100% commission. The standard commission on a sale is currently 7% of the first $100,000 + 2.5% of the balance. Some agents start closing deals right away, while some can take a few months. Ideally you'd have an additional source of income until you're self-sufficient.
Real estate is a demanding profession with high standards. Those standards are maintained through comprehensive education and experience requirements, and supported by the services of several organizations at the provincial and real estate board levels.
The following is a brief summary of the start-up costs associated with a career in real estate. For more information, new or potential REALTORS® should consult:
Real Estate Council of British Columbia which can be viewed at: recbc.ca
BCREA member
Real Estate Division, Sauder School of Business, UBC which can be viewed at sauder.ubc.ca/realestate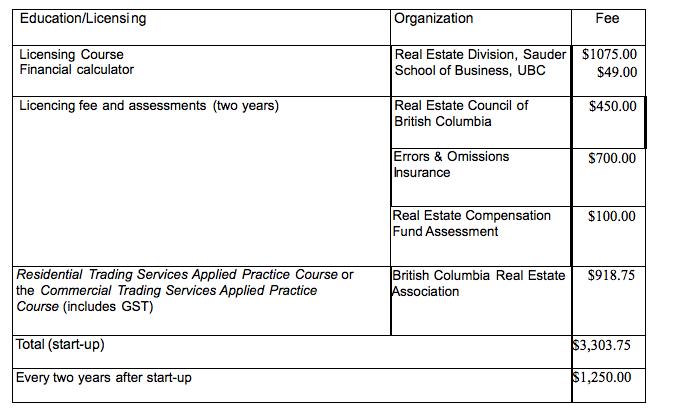 Real Estate Board Fees
Payable directly to the local real estate board and vary throughout the province. They include:

Additional real estate board fees may include a board initiation fee, board monthly/annual dues and listing fees.
Check with your local board for specific fee information.
Other Expenses
The following may also apply: